TREAT LOW-T WITH OUR CLINICALLY PROVEN LOW TESTOSTERONE TREATMENTS FOR MEN.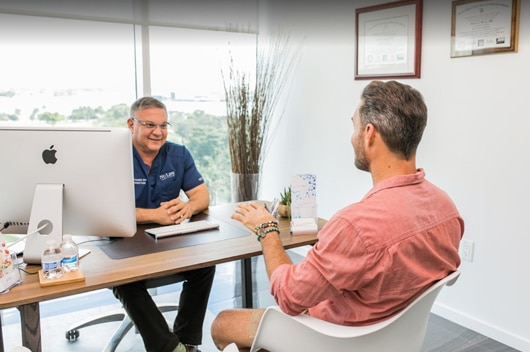 Testosterone is an essential male hormone or androgen. Testosterone production begins in the womb and plays a vital role throughout a male's life. Of course, testosterone triggers all of the changes that allow a boy to mature into a strong and healthy man.
But even after puberty, testosterone plays a critical role in a man's health and fitness. Testosterone is essential to fertility and sexual performance. It is critical for building muscle, maintaining energy, and bone health. It even plays a fundamental role in emotional stability and cognitive performance. You cannot be at your best physical, emotional, or mental best – if you have low testosterone.
However, it is an unfortunate fact of life that is as important as testosterone is – you lose more and more of it each day the older you get.
Testosterone levels peak at around the age of 20; after that, you experience a steady decline of the testosterone level in your blood of about 1% to 2% per year. By the time you are over 35, most men will be experiencing the results of that loss as low testosterone – a condition also known as "hypogonadism" or "andropause."
But the good news is, low testosterone can be treated with our unique approach to testosterone replacement therapy.
BENEFITS OF LOW TESTOSTERONE TREATMENT
If you are suffering from low testosterone, there are a remarkable number of benefits for treating age-related testosterone decline with our approach to testosterone replacement. Some of the key benefits of testosterone therapy include: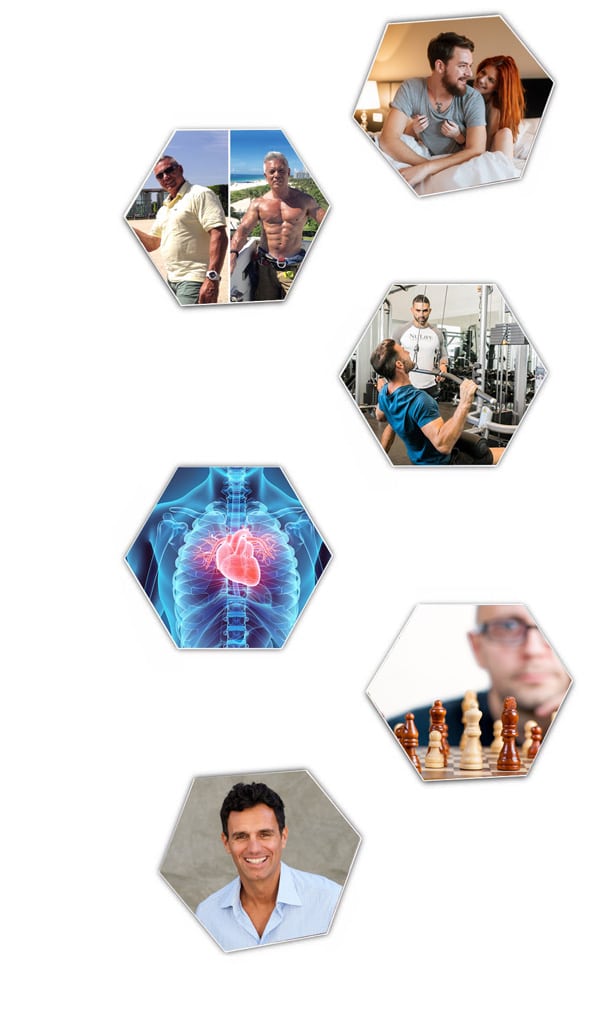 IMPROVED SEXUAL PERFORMANCE
Optimizing your testosterone level has been shown to increase sex drive and reduce or eliminate symptoms of Erectile Dysfunction.
INCREASED LEAN MUSCLE MASS
Increasing your testosterone levels boosts your metabolism, which has the net result of increasing your ability to burn fat and build lean muscle. Testosterone optimization also increases your strength, stamina, and exercise capacity, which further maximizes your muscle-building capability.
INCREASED BONE DENSITY AND STRENGTH
Testosterone therapy increases bone density and reduces the risk of osteoporosis and age-related bone fractures. Testosterone plays a key role in bone mineral density and supports improved musculature for increased support and mobility.
IMPROVED HEART HEALTH
There was a time when it was believed that testosterone therapy put men at greater risk of cardiovascular disease. We now know that just the opposite is true. Testosterone optimization improves heart health and lowers your risk of stroke or heart attack.
BETTER COGNITION AND MEMORY
A number of studies have demonstrated that testosterone therapy can lower your risk of developing Alzheimer's disease or other forms of age-related memory loss and dementia. Testosterone also clears "foggy thinking" and improves your ability to focus and accomplish complex cognitive tasks.
ENHANCED MOOD AND SENSE OF WELL-BEING
Low testosterone has been identified as the cause of so-called "Irritable Male Syndrome" (IMS), a condition in older men associated with fatigue, irritability, anxiety, and depression. Fixing low testosterone levels has been shown to reduce or eliminate IMS symptoms and provide men with an improved overall sense of well-being.
WHAT ARE THE SIGNS AND SYMPTOMS OF LOW TESTOSTERONE?
There are many signs and symptoms of testosterone deficiency. Testosterone deficiency is when your body is not producing enough testosterone. There can be several causes for a testosterone deficiency, but the most common reason for low testosterone is the steady decline in testosterone that occurs as men age.
Here are some of the most common signs and symptoms of low testosterone or testosterone deficiency in men. (Some of these also can impact women with low testosterone).
Erectile Difficulties
Hair loss
Reduced bone mass
Reduction in testicle size
Reduction in sperm count and/or semen volume
Disturbed sleep

Lowered libido or sex drive
Reduced muscle mass
Hot flashes
Loss of energy
An increase in body fat
Changes in mood or mood swings
GET STARTED IN 3 EASY STEPS WITH OUR MIAMI LOW TESTOSTERONE SPECIALIST
SET UP A FREE CONSULTATION
Fill out the form to set up your free phone or in-person consultation with our Hormone Specialists to learn what our LowT program can do for you.
SET A DOCTOR CONSULTATION
Our specialists in low testosterone will prescribe a personalized treatment plan to reinvigorate your energy, focus, and sexual performance.
START SEEING RESULTS
Begin seeing major improvements in your overall health, drive, energy, and body composition within weeks and continued success for years to come.
COMMON QUESTIONS ABOUT LOW TESTOSTERONE
What is Low Testosterone?
How Does Low Testosterone Affect My Sex drive?
Can Low Testosterone Affect My Ability to Get and Achieve An Erection?
Does Low Testosterone Impact My Energy Level?
Can Low Testosterone Affect Muscle Growth?
Does Low Testosterone Affect Body Fat?
Does Low Testosterone Affect Bone Mass?
WHAT MAKES US DIFFERENT?
NuLife Institute is Miami's premier medical facility for Functional, Integrative Medicine and Age Management. We provide men safe, effective, and clinically proven treatments for age-related testosterone decline and low testosterone.
Most if not all of the symptoms of low testosterone can be reduced or entirely eliminated with testosterone replacement therapy. Unlike other clinics that may take a "one-size fits all" approach to testosterone replacement, we will tailor your low testosterone treatment program to your unique needs and lifestyle.
Call us today at (305) 400-0005 to speak to one of our advisors and find out if our specialized approach to treating low testosterone is right for you!

Hear what people are saying about NuLife Institute. Read the amazing reviews and testimonials from real-life patients we help every day. NuLife Institute's amazing anti-aging treatments are nothing short of life-changing.
The best hormone therapy clinic in Miami by far. From testosterone therapy to human growth hormone, they have it all. After my initial consultation with NuLife hormone specialist doctor Dominguez it became very clear they care about their patient's well-being. After it was confirmed I had low testosterone which caused issues with my drive, motivation, memory, and muscle mass, I felt compelled to try their program. Very quickly I noticed changes in my mental acuity, improved drive, and reduced pain in joints. I am now starting their HGH therapy in their Miami location, and with the support from the NuLife anti-aging specialists, I am confident I will stay sharp, healthy, and active.
As a 54 year old athlete that loves to train every day, I am very thankful to NuLife Institute for helping me enjoy what I love to do every day. Strongly recommended!
I started my testosterone therapy with NuLife Institute just a few months ago, and it literately changed my life. Within the first month, my sleep improved, morning stiffness in my joints went away, and the overall feeling of optimism improved significantly; I feel alive again. Highly recommend NuLife Institute to anyone looking for a reputable testosterone clinic in Miami. I had doubts about testosterone replacement therapy, but after speaking with Dr. Dominguez and seeing its results, I am confident in this treatment. Low testosterone is a real issue for men; there is no reason to delay the treatment.
Certified by the best age management medical boards in the industry.