Platelet Rich Plasma (PRP) the New Hair Loss Treatment for Men & Women
Platelet Rich Plasma or PRP is a safe and all-natural procedure for hair loss treatment that can restore hair in men and women. PRP is one of the only hair restoration procedures that can effectively regrow hair – without drugs or surgery.
Thinning hair is a problem that affects both men and women. For years there have been dozens and dozens of "hair restoration" creams and shampoos introduced, few of which ever lived up to their claims. Until recently, the only effective treatments for thinning hair are medications such as Minoxidil, prescription medications, and invasive hair transplant surgery.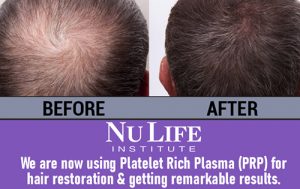 However, that has all changed with the introduction of PRP for hair loss treatments. Platelet Rich Plasma for hair restoration has been proven to be an effective treatment for men and women with thinning hair. As in all other PRP procedures, the platelet-rich plasma is created from the patient's own blood. The powerful healing and growth factors concentrated in the PRP are applied via injection to the scalp.
PRP contains stem cells and specialized proteins or "growth factors" that accelerate healing. PRP has been used effectively for facial rejuvenation in the well-known Vampire Facelift® and sexual wellness issues in the O-shot® and the P-shot® treatments.
PRP can also be used for hair restoration, as it stimulates the growth and reproduction of new cells. In this case, the result is a thickening of the hair follicles. The larger, healthier, and stronger follicles produce thicker and more vital hair.
Since PRP stimulates existing hair follicles to grow longer and thicker, platelet-rich plasma works best in men and women who are not completely bald but are experiencing thinning hair. For such patients, PRP is a remarkable drug-free, chemical-free, surgery-free way to produce thicker, younger-looking hair.
Research has shown that PRP provides vastly superior results than drugs such as Minoxidil for the treatment of hair loss in men and women. Results were particularly strong in men with typical "male pattern baldness."
PRP hair restoration procedures are relatively low cost compared to surgical alternatives and require little or no downtime.
What Kind of Results Can I Expect From PRP as Hair Loss Treatment?
As with any medical procedure, your results may vary, but most people are delighted with the treatment and obtain very noticeable results. PRP is safe, effective, and has little or no known side effects.
As opposed to most other treatments for thinning hair PRP:
Is drug-free and surgery-free
Is a simple in-office procedure, with each treatment taking only an hour or so.
Provides thicker, more natural-looking hair
PRP can help you to get back the self-confidence that comes with a full head of hair.
 What Everyone Should Know About PRP
Platelet-rich plasma has become one of the most powerful tools we have to help our patients look and feel younger. Platelet-rich plasma was first used to relieve joint pain effectively and to speed the healing of sports-related injuries. Soon after that, those of us in the anti-aging field found how this incredible, all-natural healing agent could be used to restore aging skin, to rejuvenate sexual health, and we are now using PRP for hair restoration and getting remarkable results.
At NuLife Institute we provide the best hair loss treatment, our goal is to seek out and put into practice the latest advances in regenerative medicine to keep our patients looking and feeling their absolute best!
Related Services
Service Areas