WHAT IS PRP THERAPY?
Platelet-Rich Plasma (PRP) Therapy is a revolutionary medical technique that harnesses your body's natural healing power to help men and women who want to:
Overcome nagging joint pain
Control arthritic conditions
Reduce fatigue
Enhance recovery from sports-related injuries
Wipe away wrinkles with full facial rejuvenation
Help you re-grow a full head of your own hair
But the best part? It doesn't cost a fortune, and it doesn't involve major surgery or downtime. In fact, you can be in and out in less than an hour! Professional athletes and A-List celebrities have used this exact treatment for years to stay at the top of their game … to look & feel their very best. Now it's your turn.
PLATELET-RICH PLASMA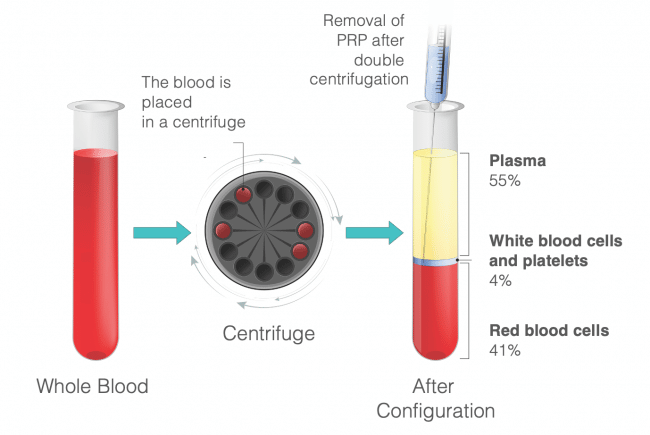 WHAT TO EXPECT FROM PRP
The expert staff at NuLife Institute administers PRP Therapy right in our Miami office. After drawing a sample of your blood and creating the platelet-rich solution, your treatment sessions will typically take about 40 minutes to complete. Depending on the type of treatment, some patients will require multiple sessions in order to achieve their desired results.
We'll see you again 4-6 weeks after your initial treatment, to evaluate patient progress and pain level. At that time, additional sessions may be recommended and performed in 8-12 week increments. Most patients don't need more than 2-3 sessions.
RECOVERY AND RESULTS
After initial therapy, patients are advised to refrain from taking certain types of pain medication, since some can interfere with the healing process. Pain after the procedure is typically minimal, but depends on the situation. A prescription for pain relief can be provided if necessary.
Improvement after PRP Therapy is reported for 80-85% of most patients, who typically experience results 4-8 weeks after treatment for Facial Rejuvenation and Joint Therapy. PRP Hair Restoration can take several months to show full results. So it's time to face the truth.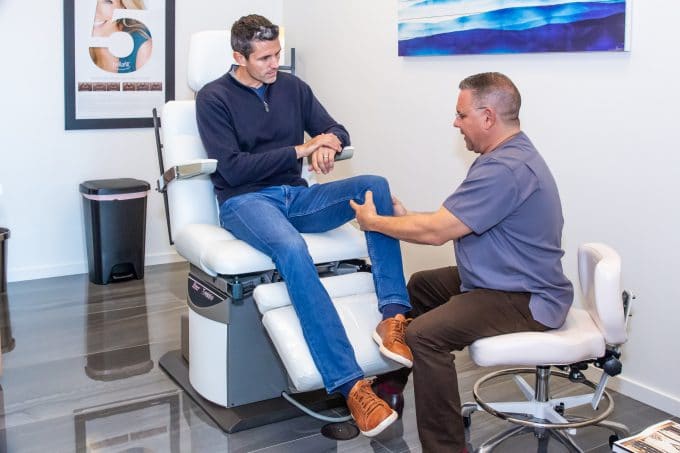 WITH PRP, AGING IS OPTIONAL
From relieving joint pain and feeling "good as new" to rejuvenating facials and re-growing a thick, luscious head of hair—PRP will unlock your body's nearly-unlimited healing power to erase chronic symptoms of aging and give you a whole new shot at the life you've always wanted to live. The results are fast, easy—and with NuLife Institute in Miami—they're also convenient and affordable.
That's why prime-time athletes like Dwayne Wade and Tiger Woods swear by PRP Therapy; because it can erase the fatigue of aging & constant training while helping their bodies perform at peak levels all day, every day. But as scientists soon discovered, these kinds of benefits were only the beginning.
Because the same principles of PRP Joint Therapy can also be used for wrinkle treatment and facial rejuvenation. Often referred to as the "Vampire Facial," PRP Treatments have become the rage amongst A-List celebrities—featured in reality shows and favored by dozens of household names. PRP Therapy can even help patients suffering from hair loss to re-grow a full head of their own hair—and do so at a fraction of the cost of Hair Transplant Surgery. Just see for yourself, the results can be astonishing!
GET STARTED IN 3 EASY STEPS
SET UP A FREE CONSULTATION
Fill out the form to set up your free phone or in-person consultation with our Age Management Specialists to learn what options are best for you.
SET A DOCTOR CONSULTATION
Our medical experts will prescribe a customized "Aging Strategy" and treatment plan to reinvigorate your energy, focus and sexual performance.
START SEEING RESULTS
Begin seeing major improvements in your overall health, drive, passion and weight loss within weeks and continued success for years to come.

Hear what people are saying about NuLife Institute. Read the amazing reviews and testimonials from real-life patients we help every day. NuLife Institute's amazing anti-aging treatments are nothing short of life-changing.
I have been a client of Nulife's for several years. at 47 years old I feel and look as great as I did at 30! I have referred Nulife to many of my friends over the years and all of them are as happy as I am.
As a 54 year old athlete that loves to train every day, I am very thankful to NuLife Institute for helping me enjoy what I love to do every day. Strongly recommended!
The team at Nulife provides cutting edge health options that have improved my quality of life. Their friendly and professional staff offer a wide range of health and fitness programs which have made a huge difference.
Certified by the best age management medical boards in the industry.