THE SOLUTION PRO ATHLETES USE
Over the last few years, PRP has become a popular new solution for prime-time professional athletes like Marshell Faulk, Kobe Bryant, Peyton Manning, and Tiger Woods—who use it to alleviate the pain of constant training and keep them operating at peak physical levels. In the past, they relied on physical therapy or medication for these conditions. With PRP Therapy, they've been able to recover and return to competition faster, easier, and without the risk of surgery.
But you don't have to be a professional athlete to enjoy the substantial benefits of PRP Joint Relief…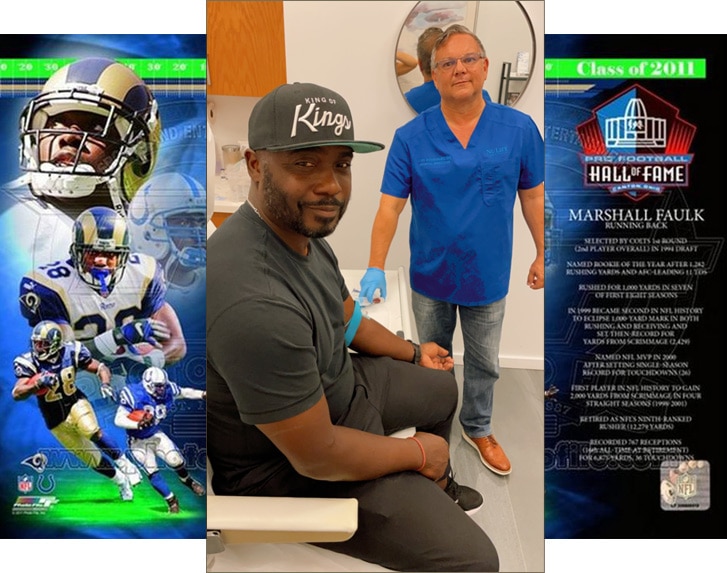 WHAT IS PRP THERAPY?
Platelet-Rich Plasma (PRP) Therapy is a revolutionary medical technique that harnesses your body's natural healing power to help men and women who want to overcome nagging joint pain, control arthritic conditions and enhance recovery from sports-related injuries. It also helps to reduce fatigue, wipe away wrinkles with full PRP Facial Rejuvenation, and re-grow a full head of your own hair with PRP Hair Restoration.
PRP Therapy was first developed and used in the treatment of major wounds. Doctors found they could reduce healing time by extracting a portion of the patient's blood plasma, then enriching it with blood platelets and applying it directly to the wound. Using the patient's own concentrated plasma for the treatment eliminated the risk of allergic reaction and removed the need for invasive, painful procedures, and post-treatment "downtime."
But the best part? It doesn't cost a fortune, and it doesn't involve major surgery or downtime. In fact, you can be in and out in less than an hour! Professional athletes and A-List celebrities have used this exact treatment for years to stay at the top of their game… to look & feel they are very best. Now it's your turn.
PLATELET-RICH PLASMA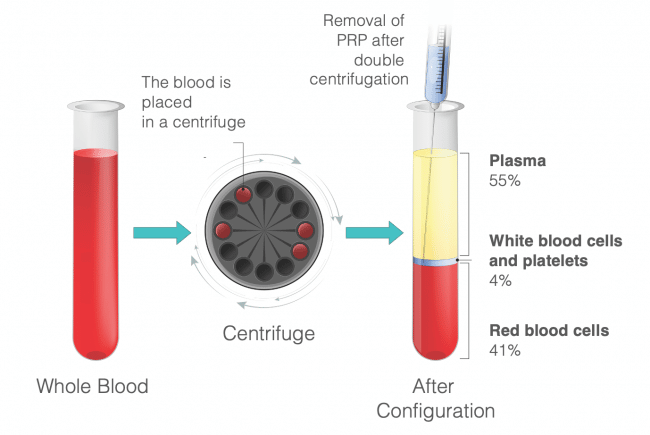 BENEFITS OF PRP JOINT REPAIR
PRP Joint Repair offers amazing benefits like:
 Naturally harnesses your body's immense healing potential
 A non-surgical solution that minimizes downtime and reduces the risk of complications
 Perfect solution for Golfer and Tennis Elbow as well as Shoulder and Rotator Cuff
 Relieves the pain from a variety of arthritic conditions
 All-natural therapy means zero risks of allergic or adverse reaction
 Boosts performance naturally!
CONSIDERED CONDITIONS
 Shoulder: Rotator Cuff Tendinitis or Tear, Rotator Cuff Impingement Syndrome or Bursitis, Bicipital Tendinitis, labrum tears, arthritis, instability Wrist/Hand: DeQuervaine's Tenosynovitis, arthritis, other wrist or finger tendinitis, ligament tears, or dysfunction of the fingers.
 Elbow: Medial and lateral epicondylitis (tennis & golfers elbow).
 Knee: Patellar Tendinitis, Patellar Femoral Syndrome, chondromalacia patella, partially torn or strained major ligaments of knee (ACL/LCL/MCL), meniscus tears, arthritis, patellar instability.
 Ankle/Foot: Achilles Tendinitis, Peroneal Tendinitis, arthritis, recurrent ankle sprains, other foot or ankle tendinitis.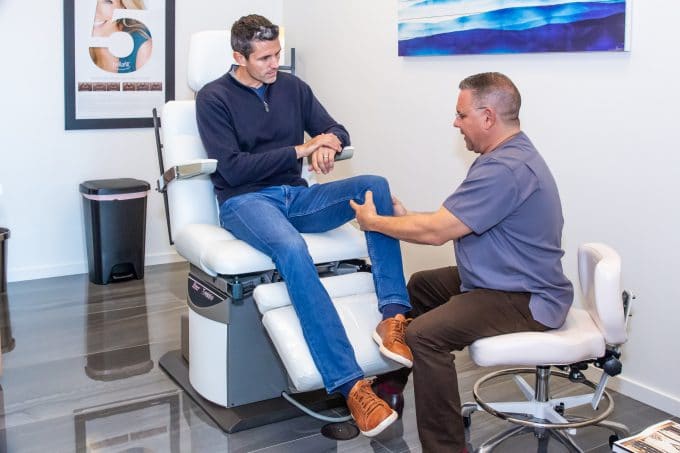 WHAT TO EXPECT FROM PRP
The expert staff at NuLife Institute will administer your PRP Therapy at one of our two Osteopathic Center Locations, and the process (including preparation and recovery time) shouldn't take more than 1 – 2 hours. Since PRP therapy is non-invasive, there are no complications from surgery, general anesthesia, or hospital stays with a prolonged recovery. In fact, most PRP patients return to their jobs or usual activities immediately after their procedure.
We'll follow up 4 – 6 weeks after your initial treatment, to evaluate patient progress and pain level. At that time, additional sessions may be recommended and performed in 8 – 12 week increments. Most patients don't need more than 2 – 3 sessions to achieve their desired results.
RESULTS OF PRP JOINT REPAIR
Initial improvement should begin within a few weeks. And since PRP Joint Repair resolves pain through stimulated/accelerated healing, it often provides lasting results—helping patients return to their normal, pain-free lives. Both ultrasound and MRI images have shown definitive tissue repair as a result of PRP Therapy. Successful treatment can even reduce the need for surgery by treating injured tissues before it becomes too late to do so.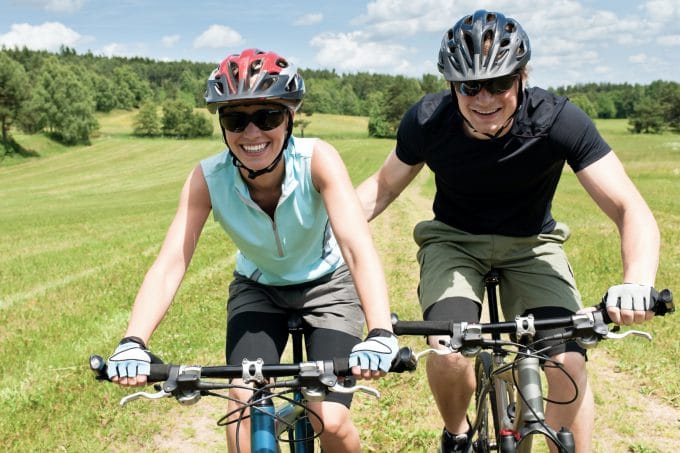 GET STARTED IN 3 EASY STEPS
SET UP FREE CONSULTATION
Fill out the form to set up your free phone or in-person consultation with our Age Management Specialists to learn what options are best for you.
SET A DOCTOR CONSULTATION
Our medical experts will prescribe a customized "Aging Strategy" and treatment plan to reinvigorate your energy, focus and sexual performance.
START SEEING RESULTS
Begin seeing major improvements in your overall health, drive, passion and weight loss within weeks and continued success for years to come.

Hear what people are saying about NuLife Institute. Read the amazing reviews and testimonials from real-life patients we help every day. NuLife Institute's amazing anti-aging treatments are nothing short of life-changing.
I have been a client of Nulife's for several years. at 47 years old I feel and look as great as I did at 30! I have referred Nulife to many of my friends over the years and all of them are as happy as I am.
As a 54 year old athlete that loves to train every day, I am very thankful to NuLife Institute for helping me enjoy what I love to do every day. Strongly recommended!
The team at Nulife provides cutting edge health options that have improved my quality of life. Their friendly and professional staff offer a wide range of health and fitness programs which have made a huge difference.
Certified by the best age management medical boards in the industry.