Hair Loss Could Be an Unexpected Side Effect of the Coronavirus
There is some evidence that COVID-19 infection can lead to hair loss.
Many patients who have been infected with COVID-19 report problems with hair loss after they have recovered. The symptoms have ranged from slightly thinner hair after being diagnosed with COVID to significant hair loss.
While these reports are mostly anecdotal, they are way too many of them to ignore hair loss as a potential side effect of the coronavirus.
Those people who have experienced hair loss as a result of COVID-19 are those that the medical community has identified as "long haulers."
Long haulers are those COVID-19 patients who have continued to have some kind of lingering symptoms of COVID infection for weeks, or sometimes months or more after the initial infection.
Doctors admit that hair loss can be a long-haul symptom of coronavirus; they just cannot seem to point to a single reason why COVID infection can sometimes lead to excessive hair loss.
Some medical professionals speculate that it could be caused by the intense stress your body goes through when it's fighting the virus or by the emotional, mental, and physical stress of dealing with COVID-19 symptoms.
A recent study of COVID-related hair loss found that there was a 400 percent spike this past summer in COVID-related hair loss in a racially diverse neighborhood in NYC.
"It is unclear if the increase in cases is more closely related to the physiological toll of infection or extreme emotional stress," said one of the study's co-authors.
Others believe that COVID-19 can create a hormone imbalance that could lead to hair loss. We have four phases in our hair growth cycle, says Kendra Timmons, a board-certified specialist in treating diseases of the hair and scalp.
"There's a growing phase, a transitional phase, a resting phase, and then your hair naturally sheds out of the follicle," she explains.
Our cortisol levels spike when our bodies are extremely stressed out, causing a hormonal imbalance that can push hair strands out of the growing phase and, eventually, into the resting phase way faster than normal.
Doctors call this type of hair loss telogen effluvium (telogen's another word for the resting phase) or TE."
She believes that cases she has seen of COVID hair loss are mainly stress-related. She knows that COVID itself plays havoc with the hormone balance, plus there is the physical, emotional, and physical stress of dealing with and recovering from the infection.
All of this means that cortisol levels in patients with COVID-19 can be exceedingly high, leading to stress-related hair loss. Normally, the average healthy human has 10 percent of all their hairs in the resting phase, and they shed those hairs about every three months.
"When you're experiencing stress-related hair loss, and your hairs are being pushed prematurely into the resting phase, you could lose up to 50 percent or 70 percent of your hair at a time, instead of the typical 10 percent," says Timmons.
She says that in cases of stress-related hair loss, the hair loss is not permanent, but it could last for six months to a year or more, even after the source of the stress has abated. Patients who are COVID-19 "long haulers" are continually under stress, so their hair loss could seem to be more permanent.
What Every Man Needs to Know About Alternative Treatments for Hair Loss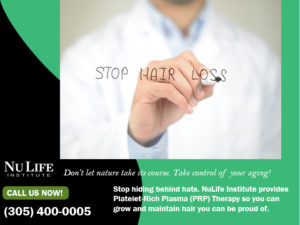 Whether you are experiencing hair loss because you have recovered from COVID-19 or any other reason, and you have tried hair loss solutions that have not worked and are not too thrilled about the idea of surgery or taking drugs to treat your thinning hair, you need to know about a remarkable, all-natural, drug-free, surgery-free treatment for hair loss that really works.
It's called platelet-rich plasma, or PRP. Platelet-rich plasma has become one of the most powerful tools we have to help our patients look and feel younger. PRP was first used to relieve joint pain effectively and to speed up the healing of sports-related injuries.
Soon after that, those of us in the age-management field found how this incredible, all-natural healing agent could be used to restore aging skin, to rejuvenate sexual health, and we are now using PRP for hair restoration and getting remarkable results.
At NuLife Institute, our goal is to seek out and put into practice the latest advances in rejuvenative medicine to keep our patients looking and feeling their absolute best!
As opposed to most other treatments for thinning hair, PRP:
Is drug-free and surgery-free
Is a simple in-office procedure, with each treatment taking only an hour or so.
Provides thicker, more natural-looking hair
PRP can help you to get back the self-confidence that comes with a full head of hair. Our medical director, Dr. Luis Dominguez, has used his unique, customized approach to help thousands of patients reverse the clock on aging and enjoy a whole new lease on life.
Dr. Luis Dominguez has applied his inquisitive mind and passion for evidence-based Integrative Medicine to focus on utilizing a whole-body approach that provides life-changing results.
"At 25, I felt I was just too young to be losing my hair. I tried all of the over-the-counter solutions, and nothing really worked. I was tired of having to wear a baseball cap everywhere I went, I heard about PRP for hair loss, and when I looked into it, I was thrilled to find someone right here in Miami that does this remarkable treatment!"

– Jorge R. Miami, Fl.
If you would like to learn more about Hair Loss treatment with PRP, please contact us today by calling (305) 400-0005.
Related Services
Service Areas